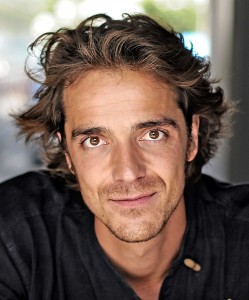 BIOGRAPHY
Gaël Métroz was born on November 28th in 1978 in Liddes, Switzerland.
In 2004 Gaël Métroz graduated in French Literature, Philosophy and Art History at the University of Lausanne. He has been awarded with many literary prizes, such as the Prix de la Sorge in 2004 and the Prix Nicolas Bouvier in 2008. After writing and directing the play L'Enfant Déchu, he decided to focus on his career as an author, director and journalist.
In order to let the journey around the world come to an expression through images, Métroz didn't stop filming while he traveled to Ethiopia, Sudan, Egypt, Burma, Turkey, Iran, Pakistan, Afghanistan, China, India and Nepal.
While working as a journalist, he published his experiences on television (Passe-Moi les Jumelles, Télévision Suisse Romande), on the radio (Un Dromadaire sur l'Epaule, Radio Suisse Romande) and in several newspapers (Le Nouvelliste, La Liberté, L'Express, L'Impartial, Le Journal du Jura, Le Courrier, L'Illustré).
In 2008 he directed his first feature film NOMAD'S LAND – Sur les traces de Nicolas Bouvier, which drew an audience of 40,000 people in Switzerland. Among other prizes, the film won the Golden Gate Award for best Documentary Feature at the San Francisco International Film Festival. SADHU, Gaël Métroz's second feature film, is the portrait of a Hindu holy man that he followed for more than a year.
FILMOGRAPHY
2012 Sâdhu- feature doc

.
2010 Kalash, the last infidels Pakistan – tv doc
PUBLIC AWARD Rassegna Internazionale Cinema Archeologico Italya, 2011
.
GOLDEN GATE AWARD, San Francisco International Film festival USA, 2009
PUBLIC AWARD, Festival Planeta 2009, Mexico
BEST DIRECTOR AWARD, Festival de Qinghai, China 2010
BEST FILM AWARD, Festival de Qinghai, China 2010
.
2006 L'Afrique de Rimbaud- tv doc

.
DIRECTOR'S NOTE OF INTENT
For many years, I have traveled around the world to share the life of those anachronistic philosophers who think that happiness is a matter of simplicity.
It was in Gangotri, at the source of the Ganges River, 10,000 feet above sea level in the Himalayas, where I encountered Suraj Baba, a sadhu who had lived there from meditation and yoga for eight years. The first time I saw him, he was improving the path that leads from his cave to the Ganges River. I helped him to carry his stones and he gave me tea with milk before returning to his yoga on the banks of the sacred river. After some weeks I settled on the neighboring cave and became his friend later on. I had become his first friend in eight years. I realized that he was trapped in his hermit life and didn't dare return to the world after such a long period of isolation.
When I told him about my project to meet some sadhus among the 70 million pilgrims of the Kumbh Mela celebration, he asked me if I could guide him there. And so we left for an eventful pilgrimage that was to be the longest of our lives. During those 18 months of shooting we slept on the banks of the rivers and ate whatever the pilgrims gave us. He went on with his little knapsack and I followed him with my camera along the Gangetic plains in India, through the passes of the Himalayas in Nepal and Mustang, towards Tibet.
At the end of the journey, Suraj turned out to be a sadhu of his very own kind. He was not looking for any doctrine, he was just trying to find his way. And while he was questioning his own status as a holy man, he became a truly wise man to me. A man in quest.
Gaël Métroz